Friends, by reading the post we have brought for you today, you may be a little surprised, but this is absolutely true. No matter how courageous a person is, fear of a snake is created in the mind of a person. Nobody wants them to be brought up by snakes even in their dreams. But there is something else here, after the snake came out in a house in Naya Raipur, panic spread among the residents. With the help of the people, the snake was taken out of the house with an iron rod, but he was greatly injured.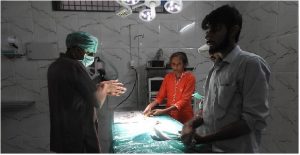 On receiving information about the incident, social worker Balwant Kaur asked Snake to bring him to his office Devpuri, after which Jaideep and Milan Singh reached his office with the injured snake. According to reports, a Kaur family of Naya Raipur has saved a life by operating a snake. A snake was found injured in Naya Raipur. He was admitted to the hospital of Dr. Padam Jain, Avanti Vihar, for treatment.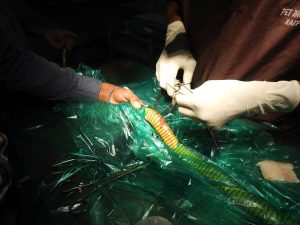 After this, a rescue operation was conducted on March 28 to save the life of an injured snake in Raipur. In this, not only was the snake successfully operated, but his life was also saved. Let me tell you that after the operation this snake has also been asked to do bedrest for a week. Seeing the condition of the injured snake, Balwant Kaur took full responsibility for the treatment, for the treatment of snake, Balwant discussed with the Veterinary Doctor Padam Jain.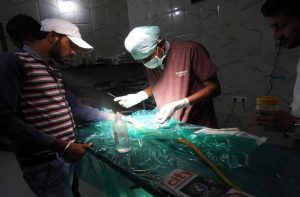 Balwant Kaur took the snake to Dr. Jain's Hospital in Avanti Vihar, where the doctor operated for 45 minutes and after a few hours of operation, the snake also regained consciousness. For this operation, Dr. Jain did not even demand a fee from Balwant Kaur, during the rescue, the snake's back bone was broken. Balwant Kaur said that the condition of the snake is out of danger. He hoped that he would return to normal after resting the bed for a week.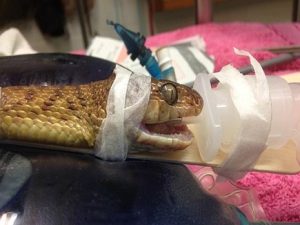 For your information, please tell that according to Dr. Padam Jain, for the first time, a snake has had an operation here for 45 minutes, which was also successful. And now the snake is completely healthy. He is constantly being injected. Manjeet said that it is a snake of red snake species, which is known as Asodhia in Chhattisgarh. This snake eats mice that eat paddy.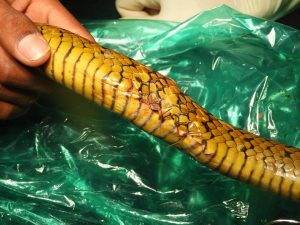 It is also called the friend of the farmers. It is not very poisonous, the age of this snake will be about 4-5 years. After the snake becomes conscious, egg and glucose are being fed in more quantity as food to improve its condition. From time to time, the antibiotic and painkiller are being injected to the snake so that it can get relief. It is being told that now his condition is better than before and now it will be completely cured in a week.