Although there is no shortage of strange people in this world, but when it comes to making the same world record, then these people do such strange actions which have no limit, people do not even leave their bodies for the world record. Today we are going to show you such strange world records, which you will be surprised to see. Now hold on to the heart because we are going to show you some such pictures that will be blown away by your senses. So see these weird people of the world Photos. Know some things about them.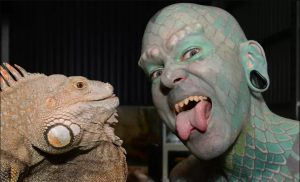 'The Lizard Man'
Many people scream when they hear or see the name of the lizard, but Eric Sprague, who lives in Texas, is known as 'The Lizard Man', he is such a great man who has made himself a lizard, because He has got his entire body modified like a lizard. His pointed teeth, cleft tongue, and tattoos all over his body are just like a lizard.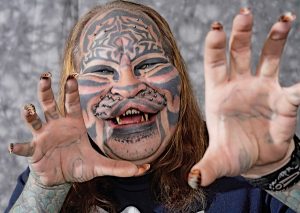 'Stocking cat'
You will not find much difference in the look of Dennis Avner and lioness living in America as they have transformed into a lioness look after doing many modifications in their body. To tell this look, he has resorted to 14 types of surgery.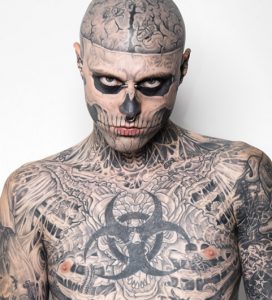 'Zombie boy'
You must have seen zombies in films. Canadian artist and model Rick Genest has got his hulia made with tattoos on most parts of his body. Because of this, he is called zombie boy.
'Piercing woman'
We feel so much pain with a needle, but Iline Davidson was included in the Guinness Book of World Records for having the highest piercing in the body in May 2000. He has a total of 3,950 piercings on his body so far. Do not understand how they must sleep at night.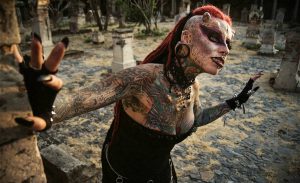 'Vampire woman'
Maria José Cristerna, who lives in Mexico, is known as the 'Mexican Vampire Woman' by proving a total of 49 body modifications in her body, proving that if the boy becomes zombie then Mhari Chori is no less than anyone.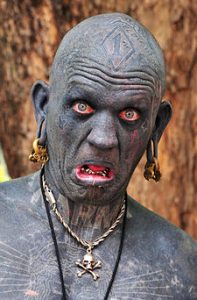 'Lucky Diamond Rich'
Lucky Diamond Rich, born as Gregory Paul, is a resident of New Zealand. This monsieur is also known as the most tattooed human being. He has got tattoos done on about 99.9% of his body, so his name has also been included in the Guinness Book of World Records. This person's photo can be used to scare children at night.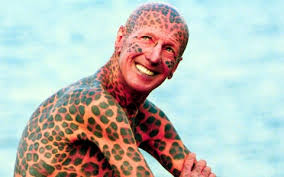 'Lippard Man'
Tom Lippard is known as the 'Lippard Man'. Born in 1935, Tom died in 2006. He had tattoos on his entire body like a leopard.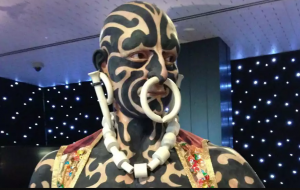 'The zebra man'
London's slide show performer Horace Ridler had Zabra-like tattoos all over his body. Moreover, he himself changed his name to The Great Omi or The Great Zebra. He died in 1965 at the age of 83.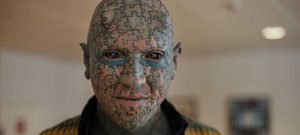 'The Enigma'
Tattoos and piercings were fine, but these men have also grown horns on their bodies. American Sideshow Performer Paul Lawrence also known as 'The Enigma'.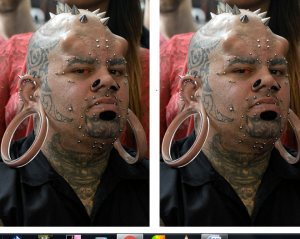 Air black
These are the hawaiian black cavi who claim to have the biggest holes in their ears.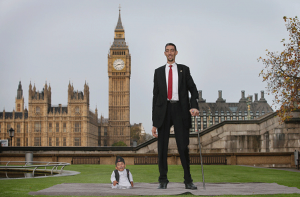 Chandra Bahadur and Sultan Kosen
He is the youngest and biggest man in the world. In 2014, the youngest Chandra Bahadur Dangi met Sultan Kosen, the eldest man. The lunar length of Nepal is 54.6 cm while that of the Turkish Sultan is 8 feet 3 inches.